The Dallas, N.C., Clemmers have searched almost 150 years for an elusive pioneer, Valentine "Felty" Clemmer I, whose children by his first wife married into pioneer Dallas families around 1795. These children were Lewis, John, George, Elizabeth, Ann and Susanna by his first wife Elizabeth Dettero Clemmer. His second wife was a Hancock and she and "Felty" married, moved to East Tennessee; and they had two children, Elizabeth and Molly. This information is found on page 567 of Our Kin by Mr. Laban Miles Hoffman, born 1846.

return As everyone knows, Our Kin is a treasure of information about several, Dallas, N.C. families. It was published in 1915. Now, before we begin our search for "Felty" some acknowledgements are necessary. In the March 1993 issue of "Footprints in Time", a publication of the Gaston-Lincoln Genealogical Society, the Rhyne family of Dallas, N.C. was researched. Written by Dr. Howard Rhyne and Mr. Robert Carpenter of Gaston County, this report traced the Rhynes back to Switzerland in 1570. Encouraged by their logical, scholarly work; and knowing that the pioneer Rhynes were direct maternal grandparents of our ancestor Jonas Clemmer (see chart CR), I got genealogy "fever". Briefly, because I know you Clemmers get bored reading about the Rhynes, we must consider what the 1993 Rhyne report does to the version in Our Kin. Keep in mind that it has now been seventy-eight years since Our Kin was published, and fortunately we have been able to add new data by skill and by luck.

First, Mr. Robert Carpenter found the estate papers of Jacob Rhyne I in the N.C. State Archives in Raleigh. These proved that Eve Rhyne Best was a daughter of Jacob Rhyne I and Our Kin does not include her. Actually Our Kin version merges her and her sister Magdalene into one person, Eve Magdalene Rhyne! Also Thomas Rhyne was proven not to be a son. Then Dr. Rhyne found church records in Blankenlock, Germany; and proved that pioneer Jacob Rhyne I was married to Elizabeth Glatfelder; and she was the mother of all of his children. Our Kin says the wife of Jacob I was Elizabeth Wills; the sister of pioneer Garrett Willis! We should appreciate all the work Mr. Hoffman did for several families, but when you research individual families in 1993, you are going to see MAJOR changes in the Our Kin version prior to 1800. After the date, oral tradition would have been fairly accurate for data accumulated from 1860 and published in 1915. However, keep this thought, we will change a few names around but did you love your grandmother any less when you found out her real name was not "NaNa" but Gertrudenstein? Admiration and love of your ancestors is what genealogy should be about.

A simple way to form genealogy charts is to stick to a parent-child relationship. While siblings are important for proof, they clutter up a chart and make it difficult for you to find your place on the family tree.

Now if you aren't bored let us go search for pioneer Valentine "Felty" Clemmer I.

Let's start with Our Kin p. 152, which says "3-Adam Cloninger II married Susanna Clemmer, daughter of pioneer Felty Clemmer 1803, and Eliz. Plonk." Many have read this to mean that Adam Cloninger II married Susanna Clemmer the daughter of Felty Clemmer and Felty's second wife Elizabeth Plonk. There are Cloninger family histories in the Gaston County Library that say this. The truth is that Adam Cloninger II married Susanna Clemmer, daughter of Felty Clemmer, on 11-1-1803, and later 6-29-1830, Adam Cloninger II married Elizabeth Plonk. Sometimes what really happened takes a little digging, so hang in there. Since this second wife misconception occurred on p. 152 of Our Kin , long before the main Clemmer family on p. 567, this could be the source of confusion.

Move on to the chapter in Our Kin that discusses the Clemmers and review

the family members on page one of this report. This Clemmer clan was supposed to have arrived in Dallas, N.C. shortly after the Revolutionary War, so that would have been 1780 (you knew that) or so.

Why don't we see if we can find where they came from. Luck is needed here. It seems that most German immigrants from Dallas (the Rhynes, the Koffmans, Costners, Rudisills and Cloningers) got off the boat in Philadelphia and moved to York County, Pennsylvania before migrating South. There must have been a roadsign in 1750 York that said "Scalping indians straight ahead to the right, Dallas, N.C. to the left." In York County we hope to find written documentation. This is called primary source" evidence and it is far more accurate than oral tradition.

The earliest record on a Valentine Clemmer is 1747. The York Co. Historical Society confirmed this to Miss Suddie Clemmer in Sept. 1969. See attached letter. 2

On 2-10-1747, one George Valentine Klemmer was born and his proud parents were Ludwig Klemmer of Friedelsheim in the Pfaltz, Germany and his wife, Maria Elizabeth Bekelin Klemmer. From Christ Reformed Church, Littlestown, PA, then York County. The sponsor at the 5-6-1747 christening was George Valentine Bekelin. Since the baby was obviously name after his mother's side of the family (G. Valentine Bekelin), he would have been the first Valentine Klemmer in the Clemmer lineage. Refer to chart #2 occasionally to keep track of these people.

The next record about George Valentine Klemmer is really about his father Ludwig Klemmer. According to records in orphans Court, York Co., on 5-28-1765 docltet B-75; Ludwig Klemmer dies without a will and a guardian was appointed for his minor child George Ludwig, age 12. Our George Valentine Clemmer I would be 18 (1765 minus 1747) so it can't be him. Weird as it seems, let's consider George Klemmer age 12, and George Valentine Klemmer I age 18 brothers for now. However, we know Ludwig Klemmer and Maria Bekelin are deceased or we wouldn't be in orphans court, right?

Moving on, the next orphans court record for Ludwig Klemmer is three years later, 5-31-1768 docket B-183. A guardian is appointed for Ludwig's minor children George Ludwig (now 14) and another child, Lawrence age seventeen. Our George Valentine Klemmer would be twenty-one and he would not need a guardian. However, on the same day, the next court docket #B-184 says the estate of the late George Valentine Bekelin (the sponsor at the christening for George Valentine Klemmer) leaves money to Jacob, Valentine, Lawrence, and George Ludwig Klemmer. This is probably their birth order and George Valentine Klemmer has a brother George. Since they were passing out money, this last list is probably correct. The important thing here is that George Valentine Klemmer I (b.2-10- 1747) is twenty-one years old and still in York Co., Pennsylvania.

For the next record we have to jump ahead fifteen years (somewhere in York Co. their are more records) to a tax listing in 1783 that lists one Valentine Klemmer, a joiner or skilled carpenter, who has seven (7) inhabitants in his household. Our George Valentine Klemmer I (1747) would be thirty-six now and could have married and had five children by 1783 so we are still in the ballgame.

Our next record is again from Christ Reformed Church in Littlestown, PA and we get some good news. To parents George Valentine Klaemmer and his wife Margaretha, a daughter Susanna Charina Klaemmer was barn 6-22-1784 and christened 9-26-1784. This is the same church where George Valentine Klemmer was christened in 1747! Adding Susanna to the seven people on the 1783 tax list and in 1784 you have Valentine I, Margaret and six children. By chance have you heard of Valentine Clemmer with a family like that? Refer to page one of this report and note that the youngest child in both families is a Susanna clemmer.

However, the next primary source record is a real shock. York Co. court record a Will #G48 for recently deceased Valentine Klemmer, German Township, York (now Adams) County. Unfortunately this is our George Valentine Klemmer I now 38. The will lists his widow Margaret and his children are listed (probably in birth order as was the custom) as 1. John Ludowick (Ludwig was George Valentine Klemmer's father), 2. George 3. Elizabeth and 4. Susanna. Note that all of these Pennsylvania names are identical, and the birth order is also identical to the children of pioneer Valentine "Felty " Klemmer in Dallas, Our Kin . The possibility of this happening in two different families is extremely remote. Let us discuss the children first and we will get back to George Valentine Klemmer I shortly. The initial court list of the children from York PA is missing two children from the Dallas children's list - Lewis and Ann. But we know from the 1783 tax list and Susanna's birth that Valentine has six children. Which is the more reliable, the tax list or the court list? Remember the first court records (1765) for the minor children of deceased Ludwig Klemmer, only listed George Ludwig, age twelve. The second court record listed two miners, George Ludwig fourteen and Lawrence seventeen, only three years later; and later the same day we got Jacob, George, Valentine and Lawrence. As for the tax listing, it appears to be more detailed and correct because in addition to the children it also records one horned cattle, three sheep and three lots. Somebody was standing at the house and counting heads. Maybe this will help us through the confusion. We know that the youngest child of the York, Pennsylvania family, Susanna Clemmer, was born in 1784. From North Carolina records we know that this Susanna Clemmer married Adam Cloninger II in 1803-this was previously discussed. By subtracting 1784 (Penn) for 1803 (NC) you can see that if the two Susanna Clemmers were the same person, she would have been nineteen when she married Adam Cloninger II. That looks darn good to me
Here is a summary of our search:
1. "primary source" records from York Co. confirming dates and ages
2. a father named Valentine Klemmer who had six children
3. at least four children in the correct birth order and identical names
4. the Pennsylvania family could not have arrived in Dallas, N.C. before 1785.

This proves to me that these Dallas children 1. John Ludwig (12-27-1778 d. 6-24-1827) 2. George Ludwig (1780 born), 3. Lizzie (Elizabeth) and 4. Susanna (6-22-1784 d. 1825) are the children of George Valentine Klemmer I (b. 2-10-1747 d. 1785), and probably his wife Margaret. Fortunately my Clemmer roots come from George Clemmer (b. 1780) in the proven sequence of John, George, Lizzie and Susanna. So, while I am curious; I don't have to document any more children to continue my direct parent-child relationship.
It is now time to deal with George Valentine "Felty" Klemmer I, deceased 1785. The Our Kin version has both "Felty" and his wife, Elizabeth Dettero, coming to Dallas, NC; but note that Mr.Hoffman begins with "I am told...". He was getting his data by oral reports and almost one hundred years after "Felty" died, Also the source of this oral date is not identified as a Clemmer. Also the Our Kin Clemmers only got eight pages at the back of a 578 page book. We know Mr. Hoffman started with his family; and main interest, the Hoffmans and Rhynes. Now given the magnitude of the Rhyne family errors (before 1800) in Our Kin, my conclusion is that the Our Kin version of Valentine and Elizabeth (also before 1800) is wrong. George Valentine "Felty" Clemmer I; never came to Dallas, never remarried, and never moved to Tennessee. Consider the following: he never had land or a deed registered, he never was listed on any tax records, he was not listed on the 1790 United States Census, had no marriage recorded, had no burial place or date for him, Elizabeth Dettero Clemmer, or a Ms. Hancock Clemmer (2nd wife). The Clemmers in Tennessee are descended from John Ludwig Clemmer (1778-1827), son of Felty I) and Hanna Hoffman Clemmer. These two pioneers led a family "exodus" to Brakehill, Tenn. (Monroe County East Tenn.) about 1827-0ur Kin p. 35.
Moving forward, it is the duty of family historians to list the correct names and dates. Otherwise we would lose all of the true ancestors in that lineage. We have lost the name Elizabeth Dettero but we still have the wife and mother of the pioneer family-only a name change. Now let us move on to find our new ancestors. Remember Ludwig Klemmer and Maria Bekelin Klemmer? They were kind enough to leave us their mailing address - Friedelsheim in the Pfalz, Germany. See attached 3 map . Friedelsheim appears to be within 150 miles of Blakenlock, Germany where Dr. Howard Rhyne recently found their old church records. Maybe the Klemmer records survived also. Here are some questions that need to be researched:
1. Who was Valentine's last wife, Margaretha? Was she his only wife?
*2. Who was George Valentine Bekelin? My suspicion is father to Maria Elizabeth Bekelin Klemmer.
3. Why did the children of Felty come to Dallas after he died-maybe a relative?
**4. Is George Valentine "Felty" Klemmer buried at Christ Reformed Church, Littlestown PA?
Somewhere in York Co., PA or in Friedelsheim, Germany are the answers. Can you find them? You may be able to prove some part of this report false, so I leave you with this thought - the spirit of genealogy is to find the truth, and in it's pursuit I wish you good luck!
---
Gaston Co. Museum of Art & History
131 W. Trade St
Dallas, NC 28034
(704) 852-6025 or 922-7681
Approximate price $25.00
---
2 back
FROM: THE HISTORICAL SOCTETY CF YORK COUNTY
25O.East Market Street
York, Pennsylvania 17403

DATE: 13 September 1969

TO: Miss Sudie Clemmer
xx x, xxx xxx
Xxxxxxxxxx, Xxxxxxxxxxxx

Dear Miss Clemmer:

Thank you very very much for your letter and check we received a few weeks ago. Due to a large amount of work on hand and a very small staff, We have not been able to get to your request until nov. Please foreive our tardiness, and allow us a bit of apology, We have noted your desire to find data either linking or disupting information of two Valentine Clemmers or Klemmers. Therefore, we made a complete search of our files for information on this name and hnva Checked the following sources:


wills and orphans court dockets extracts for York County before l850.

cross reference file of names mentioned in other wills and orpans court dockets of York County before 1850.

file of vital statistics for York and Adams Counties up to the present.

extracts of early land warrants and land drafts of York County before 1800.

tax lists of York County between 1762 and 1800.

list of civil office holders in York County before 1800.

marriage and death announcements in local newspapers before 1850.

index of deeds of Lancaster County before 1850.

index of wills and orphans court dockets of Lancaster County before 1850.

first census of the US for Pennsylvania 1790.

In our search for information on the name Valentine Klemmer, we checked all possible spellings, and have found the following information:

a. wills and orphans court docket extracts of York County:

1, Valentine CLIMMER - Petersburg, Germany Township, York (now Adams) County. Will # G-48, dated 12 October 1785 probated 31 October 1785. Mentions his wife or widow Margaret, and names children as John Ludowick; George, Elizabeth; and Susanna. Executors were the widow Margaret, and Adam Wintrott.
Back
---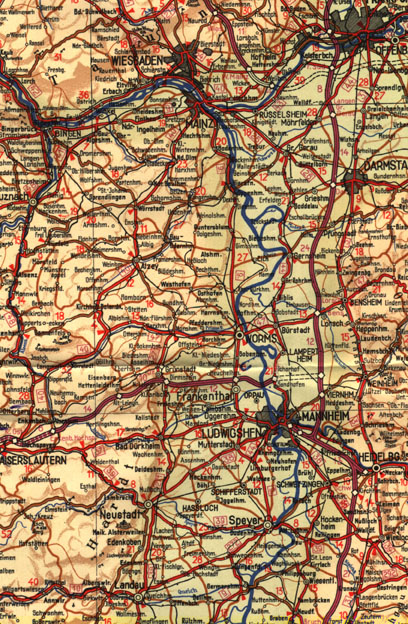 For reference, Weisbaden is at the top of the map. As you follow the blue line down (the Rhine) you come to Mannheim on the East bank and Ludwigshafen on the West bank of the Rhine. Friedelsheim in Pfalz, the home town of Ludwig Klemmer, is not far from Ludwigshafen on the West bank of the Rhine in the most southern part of Palatinate. Although it does not show on this map according to Charles Hite, it lies approximately 5 miles South West of Ludwigshafen.
For a higher resolution image click here
Back
---
NOTES by Dorothy Creely
* No, one was an uncle & the other her brother, also killed with the family in 1756/7
back
** I have proof in the legal papers pertaining to the estates of Ludwig Clemmer & George Valentine Klemmer
back.
---
HOME
danny@clemmer.org